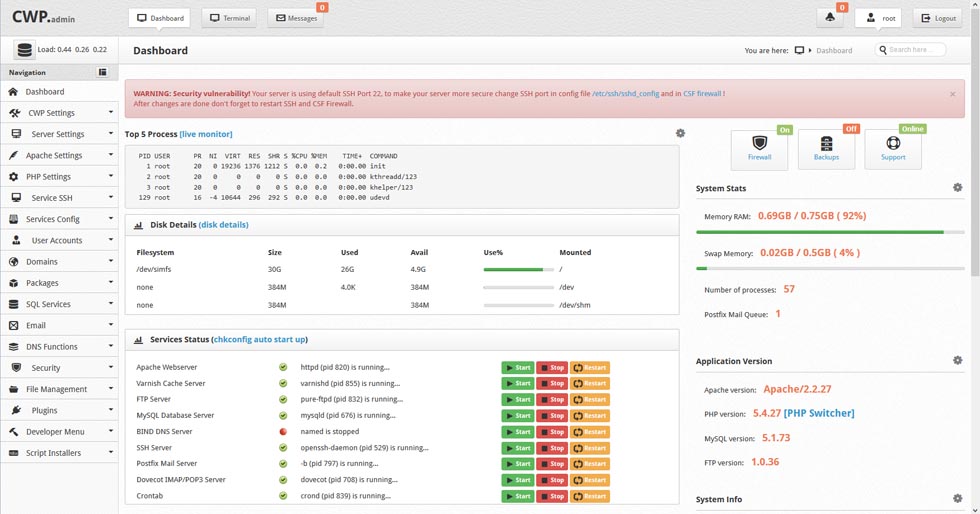 Today web-GUI control panels are very popular because of easy to use interfaces even for beginners, extended functionality, stability. But what about free alternatives to CPanel, DirectAdmin, Plesk and other commercial web server panel software? Are they existing and what you may get for free?

The answer is 'Yes', opensource webGUI panels are highly popular and provided basically as open source, which means you can browse and examine the software raw code. You can even make changes if you are planning to and able to code. All products in this article are free, which means you can start saving money or cut your costs by switching from commercial panels.
1. Ajenti
Ajenti is a Python-based web control panel system, which makes it stand out from all PHP-based panels. Its website claims there are more than 55,000 active users of Ajenti. The interface is very well-designed. Ajento runs on various Linux distributions and FreeBSD.
Ajenti, the only open source feature rich, powerful and lightweight control panel that provides responsive web interface for managing small server set-ups and also best suitable for Dedicated and VPS hosting. It comes with many built-in pre-made plugins for configuring and managing server software's and services such as Apache, Nginx, MySQL, FTP, Firewall, File System, Cron, Munin, Samba, Squid and many other programs like File Manager, Code Editor for developers and Terminal access.
2. ISPConfig
It's a popular, open-source web control panel system with good enterprise support. The project claims to have more than 40,000 downloads per month. There is good multi-server, IPv6, and virtualization (OpenVZ) support, which is ideal for ISPs or other corporate environments. ISPconfig is an open source multilingual control panel which enables you to manage multiple servers under one control panel. ISPConfig is licensed under the BSD license. This open source control panel is also capable of managing FTP, SQL, BIND DNS, Database and Virtual servers.
Features of ISPconfig:
Manage more than one server from one control panel.
Easy to use web interface for administrator, reseller and client login.
Manage web servers like Apache and Nginx.
Configuration mirroring and clusters.
Manage email and FTP servers.
3. Webmin
Webmin a super functional and powerful web hosting control panel. It's an open-source web control panel for system administration on Linux/Unix. It has dozens of modules for configuring server services. Their Cloudmin tool is a Webmin-based interface for managing virtual systems, including Xen, KVM, and OpenVZ. The software tool is designed to manage Unix and Linux platform in a simple way. WebMin is capable enough to manage various components of web based environment from setting a webserver to maintaining FTP and email server.
Features
Configure and create virtual server on Apache.
Manage, install or delete a software packages (RPM format).
For security you can set up firewall.
Modify DNS settings, IP address, routing configuration.
Manage database, tables and fields on MySQL.
4. Vesta CP
Vesta CP is another open source web control panel that comes with bunch of features to manage and configure your Linux systems from a simple and clear interface. Vesta is open-sourced and aims to be a simple and lightweight web control panel. It does not support the more enterprise-like features (like multi-server setups), but it does try to place an emphasis on performance by using Nginx for the web panel frontend and Apache for the application backend.
5. Zpanel
Zpanel is a free to download and easy to use enterprise class web hosting control panel for Linux, UNIX, MacOS and Microsoft Windows.
Zpanel is written in purely PHP language and runs on Apache, PHP and MySQL. It comes with core set of essential features to run your web hosting service. The core features includes Apache Web Server, hMailServer, FileZilla Server, MySQL, PHP, Webalizer, RoundCube, phpMyAdmin, phpSysInfo, FTP Jailing and many more.
6. CentOS Web Panel
CentOS Web Panel is an open-source web panel for the CentOS Linux distribution. CentOS Web Panel – a Free Web Hosting control panel designed for quick and easy management of (Dedicated & VPS) servers minus the chore and effort to use ssh console for every time you want to do something, offers a huge number of options and features for server management in its control panel package. It has a solid feature set that can match most of the other web panels, though it lacks multi-server support.
7. Kloxo
Kloxo is one of the advanced and free web control panel for Redhat and Cent OS distribution. It is featured with leading control panels like FTP, spam filter, PHP, Perl, CGI, and much more. Features like messaging, back up restore and ticketing system modules are inbuilt in kloxo.
It helps end user to manage/run a combination of Apache with BIND and switch the interface between these programs without losing your data.