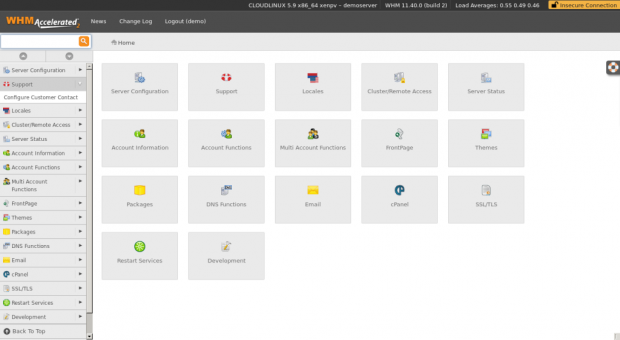 What is a Linux server control panel? This is a type of software working on a Linux server with a web based GUI interface which has capability to manage the web services and web users. Basically, server control panels can manage users, domains, email accounts, FTP accounts, file management functions, creation of subdomains, disk space monitoring, bandwidth monitoring, create backups and many more functions.


In general, most control panels implement a common set of features. Web hosting control panel software may provide access to:
Domain name system management (web domains, mail domains, etc.)
Email system management (email addresses, email quotas, spam prevention, etc.)
FTP management (user accounts, password management, file system quotas)
Web-based file system access
SSH user/key management
Database management (MySQL, PostgreQSL, and sometimes other database systems)
Backup management
Logfile access and reporting
Plugin system for configuring additional services and installing apps (e.g., WordPress)
Let's see the top of paid commercial server control panels.
1. WHM/CPanel
Price:
VPS Optimized license – € 15 / month
Dedicated server license – € 30 / month
CPanel is most popular control panel in the world. We offer instant license activation and qualified support buying CPanel at our website. It is a Unix based hosting control panel. The Graphical interface helps you to manage your Website and web hosting accounts very easily and quickly. The automation tools are designed to simplify the process of website. CPanel give you a complete control over the various aspects of website and administration through a standard web browser and also streamlines the process such as Creating database, setting up email account and auto responder and managing website files.
While cPanel is certainly the most popular control panel on the market, there are still people in the web hosting community who claim they don't need a web panel. This is especially true of more tech-savvy folks. System Administrators, for example, may not see a need for a dashboard that facilitates work they know how to do manually.
2. DirectAdmin
Price:
VPS license – € 9 / month
Dedicated server license – € 15 / month
DirectAdmin is an open source web hosting control panel that provides graphical admin interface to manage unlimited websites, emails accounts etc. the tasks are automated means DirectAdmin can manage your task automatically to set up and manage websites easily and quickly.
Main features of DirectAdmin:
Manage and create email account and manage database.
Create FTP account for users.
Manage frontpage extension, DNS and view statistics.
Built in File Manager to manage uploads
Set up error pages and directory password protection.
3. Plesk
Price:
VPS, Admin edition (up to 10 domains) – € 7 / month
VPS, Pro edition (up to 30 domains) – € 8 / month
VPS, Host edition (unlimited domains) – € 12 / month
Dedicated server, Admin edition (up to 10 domains) – € 7 / month
Dedicated server, Pro edition (up to 30 domains) – € 15 / month
Dedicated server, Host edition (unlimited domains) – € 36 / month
Plesk is a hosting control panel similar to cPanel which allows you to manage your hosting account through web based interface. You can use this panel with VPS, Shared and Dedicated server. Plesk also enables you to control thousands of virtual host under a single machine. The control panel allows you to automate many tasks which in turn reduce the cost and resources. It also increases the profitability, efficiency and customer satisfaction.
Additionally could be purchased: Web Presence Builder, Hosting pack, Power Pack, Language Pack.
4. ISP Manager
Price:
ISP Manager Lite v.5 – € 5 / month
ISP Manager Pro v.5 – € 13 / month
ISP manager is a commercial web hosting control panel with perfect balance of functionality & price. It comes in two editions: Lite, for managing own VPS and Dedicated servers, and Business, for providing shared and reseller hosting.
ISP manager has all features, commonly found in premium panels. With its help you can manage websites; create domains, users, databases & many more.
This panel already has 18 years of history and is currently one of the most popular control panels in Russia/CIS countries, and is rapidly gaining wide-spread popularity in many others.
5. InterWorx
Price:
VPS (unlimited domains) – € 8 / month
Dedicated server (up to 35 domains) – € 13 / month
Dedicated server (unlimited domains) – € 23 / month
InterWorx is a Linux server management system and web hosting control panel. InterWorx has a set of tolls that provides admin user to command their own servers and the end users can over view the operation of their website. This Control panel is basically divided into two operating modes.
Nodeworx: Nodeworx is an administrator mode that helps managing server.
SiteWorx: SiteWorx is a website owner view that helps end users to manage their hosting account and features.
An InterWorx-CP one-time license gives you a single fixed cost way to obtain InterWorx-CP. A one-time license is good for those clients who are familiar with InterWorx-CP as support for one-time licenses does expire 6 months after purchase.