VM Manager is basically a GUI (web user interface) for server virtualization management in OpenVZ and KVM. It allows users to create virtual machines and manage them using all of VM Manager functions. With VM Manager it is easy to offer VPS servers to customers and using seamless integration with popular billing software such as WHMCS or HostBill app will give you flexibility. VM Manager operates on OpenVZ or KVM hypervisors.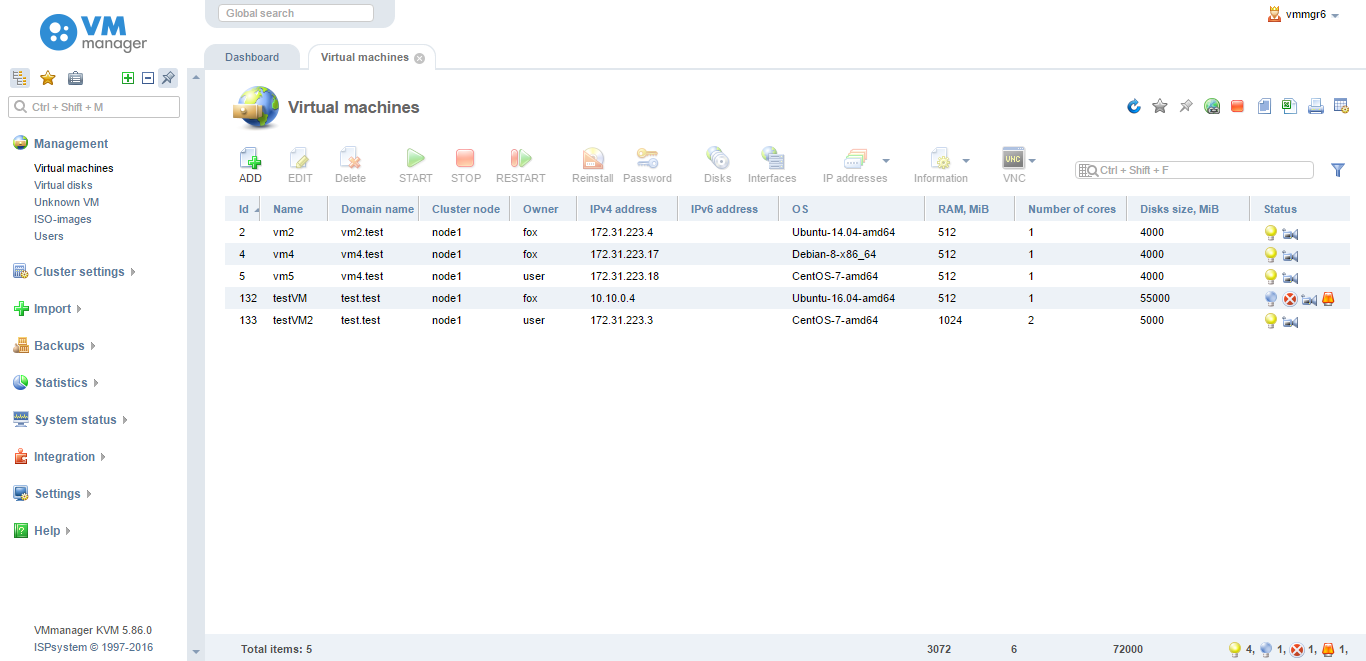 VPS provisioning
Automatically provide VPS services to your clients by integrating VMmanager with popular billing software such as BILLmanager, WHMCS, HostBill. Sell pre-configured VPS plans or set up custom configurations for clients.
Client access to VPS management
Allow customers to manage their virtual servers from an intuitive interface. Empower them to deploy a server, re-install OS, reboot virtual machine, make and restore backups, etc.
Clients support
Connect to client's virtual machine using the built-in VNC HTML 5 client. It would save a lot of time of your support team.
Server virtualization
Divide a dedicated server into several isolated virtual machines using OpenVZ or KVM virtualizations. Learn more.
VM management
Use intuitive web-based interface to create, reboot, activate, and suspend virtual machines. Learn more.
OS deployment
Deploy operating systems in automatic or manual modes. Use OS templates, recipes or boot a VM from ISO. Learn more.
Storages
Increase performance of VM by setting up local or network storages such as iSCSI, RBD, GlusterFS, Network LVM. Learn more.
Live migration
Move running VM between cluster nodes without downtime. Learn more.
Monitoring
Monitor resource consumption by using statistics, reports & charts. Learn more.
HTML5 VNC client
Use the built-in HTML5 noVNC client for virtual network computing. Learn more.
IPv6 support
Set up primary and alias IPv6 addresses to access VMs & the panel. Learn more.