CPanel is a popular control panel server software that helps you manage your web hosting server using a GUI (user-friendly web based) interface. It's very popular with shared hosts, where it's the de facto solution provided by most affordable hosting providers. With CPanel, you would never need technical knowledge to manage your websites/server.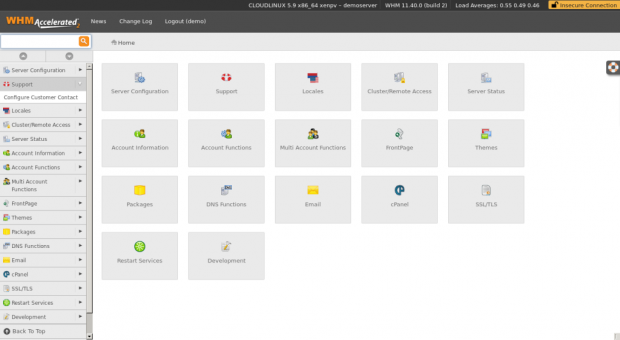 Anyone can use cPanel & WHM, along with their virtual private or dedicated servers, to offer hosting to customers and able to make changes using a graphical interface – no technical knowledge required.
CPanel minimum requirements
Component
Minimum
Recommended
Processor
226 MHz
226 MHz
Memory
768 MB of RAM
1 GB of RAM
Disk Space
20 GB of
disk space
40 GB of
disk space
CPanel features
Mail
Use cPanel to create mail accounts, autoresponders, and forwarders. You can also utilize cPanel's account and user-level filtering to help manager your email. Deter spam with Apache, SpamAssassin, BoxTrapper, and even email authentication. Finally, use cPanel's mailing lists to send out your message to the world.
Security
Use cPanel's security settings to configure password-protected directories, SSL/TLS, IP address denials, and GnuPG Key settings to restrict access. Learn to protect your site with ModSecurity, Leech Protect, and HotLink Protection.
Domains
Identifying your site will be easy with the Simple DNS Zone Editor as well as the Advanced Zone Editor. Also, you will be able to set up subdomains, parked domains, addon domains, and redirects all to point visitors in the right direction.
Apps Galore
Who doesn't need Apps! Utilize our third-party software addons for help building your site as robust and dynamic as possible. Use addons for eCommerce, guest books, bulletin boards, and even blogs.
Files
Monitor your sites disk space usage all while editing and backing up files and folders.
Databases
Use MySQL and PostgreSQL to limit access and store large amounts of data.
Logs
Use Webalizer and AWStats to get a feel for your audience and track your sites performance.
CPanel partitions for CentOS 6/7
| RAM | Min swap space |
| --- | --- |
| 2 GB or less | Two times the amount of RAM on the server. |
| 2 GB to 8 GB | The same as the amount of RAM on the server. |
| 8 GB to 64 GB | Half the amount of RAM on the server. |
| 64 GB or more | 4 GB |
WHM features
WHM software saves you time and money by automating and streamlining tedious server management tasks. You can even customize the control panel to match your company branding.
User Accounts
Turn your Dedicated or Virtual Private Server (VPS) into a scalable business opportunity with WHM! You will be able to create and manage user accounts, allow your clients to better manage their individual sites, as well as establish your own pricing tiers.
Investment Protection
With WHM, you will get the highest qualify protection and security on the market. You will receive updates on your server as well as real time analytics designed by our team of developers.
Server Monitoring
Our server monitoring tools will let you know what is going on with your server at any time of the day.
Transfers & Backups
You will never again have to worry about lost information with out automatic backups on all data. Your experience of transferring information between cPanel-installed servers will be easy and seamless from beginning to end.
Unique Customer Experience
Use WHM's one-of-a-kind auxiliary tools and features to offer your clients a catered experience.
Branding
Want to implement your own custom branding assest, colors, or images? You will get these features with WHM.
World of Add-Ons
Ready to find your niche in the hosting community? You will be able to offer a tailor-made experience to your target audience with WHM's 500 applications and plugins that are available. Each and every provider will be able to find the tools or widgets necessary to stand above the rest.
Summing up, why is CPanel?
CPanel is a user-friendly control panel that allows you manage your hosting account and server. Many web hosting businesses (including shared hosts, dedicated servers, VPS servers), are providing CPanel to their respectful customers. Why? With CPanel, you can perform a number of important actions like:
Installing WordPress, Joomla, Drupal, other CMS
Creating a new email account
Adding a domain or subdomain
Managing or uploading files to your server
Backing up your site
And you can also perform many other technical actions.